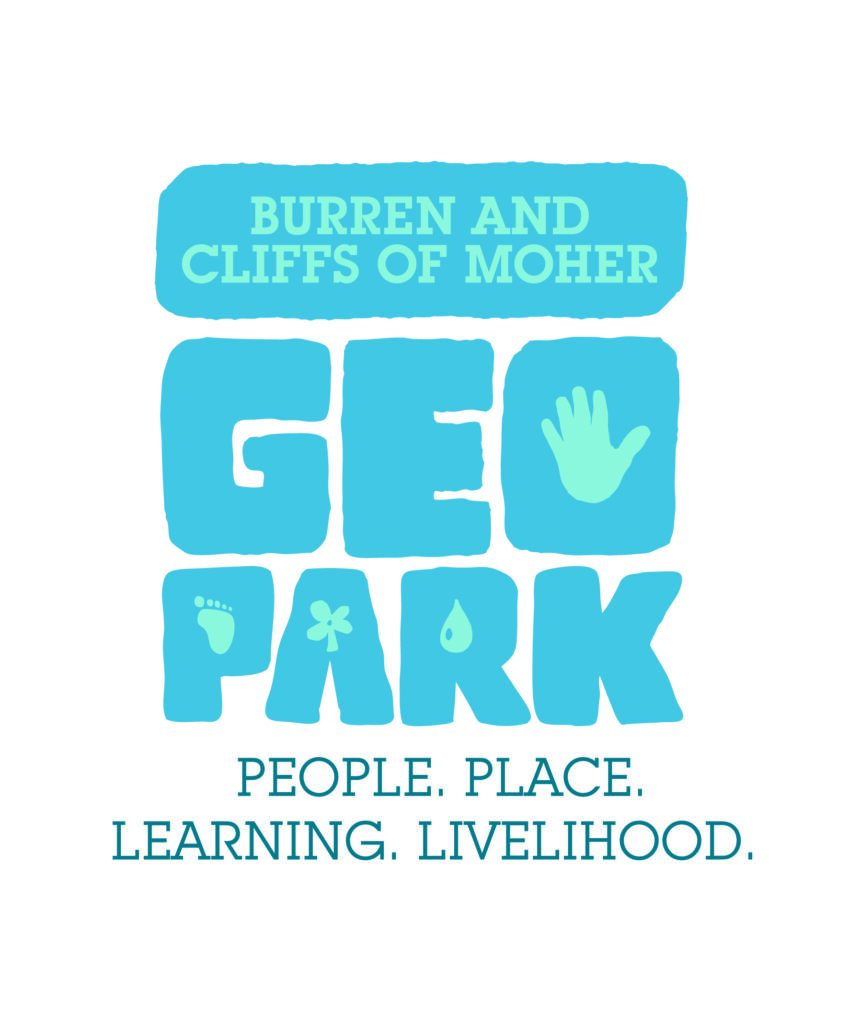 What is a UNESCO Global Geopark?
UNESCO Global Geoparks are internationally recognised areas with unique geology, landscapes, history and culture. They are places where the geology has a deep influence on the life and culture of the local communities.

Geoparks are managed with a focus on education, conservation, sustainable tourism and community engagement. Geopark status is a UNESCO designation and is revalidated every four years.
You can find out more about our Burren & Cliffs of Moher Geopark.
Environmental Policy Statement
Burren Smokehouse is fully committed to environmental good practice following the Geopark Code of Practice for Sustainable Tourism from management through to members of staff. We provide a facility that encourages visitors to visit the region while positively impacting on our local economy, our local community and without harming our environment.
Our commitment to the principles is targeted and will be measured and reported to the administrators.
Working Together –
In our Visitor Centre we provide free Geopark visitor maps and information about other Burren Ecotourism providers.
We use all opportunities to network with other Burren Ecotourism Network members by attending training events, workshops and activity days
Members of staff are trained to provide and find information as to where next to visit in the area and supply referrals
We actively promote the Burren Food Trail and Burren Adventure programme on our social media profiles and through posters and brochures in our Visitor Centre
Objective:
1. To update our training with a refresher training day for all Visitor Centre staff at the beginning of each summer season.
A Cared-for Landscape
Several members of the Burren Smokehouse Team have undertaken Leave no Trace training (February 2014, refresher September 2021). Visitors can read more about Leave no Trace on our website
Objectives:
1. To arrange for new Visitor Centre staff to attend Leave no Trace training during 2021
2. To organise Hedgerow clean ups in the local area involving our staff
A Well Understood Heritage
All of our 40,000 visitors a year are exposed to the Burren Geopark plaque proudly displayed outside our Visitor Centre
We are committed to providing relevant and accurate interpretive information to visitors on the natural and cultural heritage of the region. We are proud to be part of Burren & Cliffs of Moher UNESCO supported global Geopark status.
Through film and tour guide presentations our visitors can learn about the heritage of the ancient craft of smoking salmon in Ireland. We make this experience available in English, French, German, Spanish, Italian & Swedish.
We also offer a new fascinating learning experience called "Taste the Atlantic – The Salmon Experience". Visitors can immerse themselves in Ireland's salmon story reaching back to ancient times featuring legends and the traditional methods of yesteryear. The experience also explores contemporary salmon aquaculture, salmon's nutritional benefits and introduces the real-life characters for whom this is a sustainable modern way of life.
Vibrant Communities
We welcome all visitors of all ability and supply facilities for those with limited ability
During their more than 30 years in business, Birgitta & Peter Curtin have always been committed to conservation, promotion of and networking in the Burren with other businesses and tourism businesses. Birgitta & Peter are founding members of Slow Food Clare and organise the Burren Slow Food Festival since 2005 – see slowfoodclare.com. They are also founding members of the Burren Ecotourism Network (burren.ie) and act as advisors to the Burren & Cliffs of Moher UNESCO Geopark.
Objective:
1. We want to make all our visitors feel welcome by improving our communication of our story in a way that they understand by using clear language and signage
Strengthened Livelihoods
We only use certified Irish organic fresh salmon farmed sustainably on the west coast – see irishorganicassociation.ie
Burren Smokehouse sources 100% of our organic salmon, trout and mackerel from Ireland.
We purchase other Burren artisan food products, Clare food products and Irish artisan food products for sale in our shop and are also available to order from our website for mail order customers.
We use local service providers and trades and craftsmen where possible
Sustainable Tourism Management
Burren Smokehouse have appointed a Green Team of staff and management that meet on a monthly basis to monitor and make continual improvements in efficiencies of reduce, recycle and reuse energy, water and waste.
Our Gold Ecotourism Ireland plaque from https://www.sustainabletravelireland.ie/ certification is visible; we display our organic standards (irishorganicassociation.ie) as well as our commitment to Slow Food philosophy and local produce.
We welcome cyclists, walkers and visitors that use public transport and offer a discount on purchases of our products as an incentive for using sustainable transport. We offer information on how to access us with sustainable transport on our website. Many Burren Smokehouse staff live locally and walk to work.